Invisi-Fast Hidden Fastener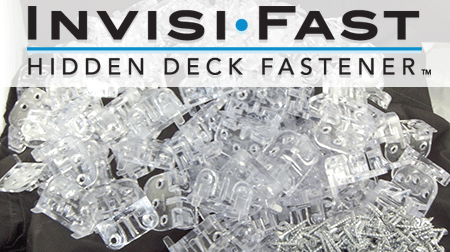 Invisi-Fast is a revolutionary way to assemble decks. We've designed a deck fastening system that effectively clears the deck surface from unsightly screw holes, which keeps moisture from ruining your investment. The Invisi-Fast Hidden Deck Fastener system is a durable, low-cost, easy to use alternative to the other deck fastening systems.
The Invisi-Fast Hidden Deck Fastening System combines a practical and cost efficient way of fastening virtually every kind of deck board. All of the Invisi-Fast fasteners are produced from extremely tough and durable Poly-carbonate resins. There are no comparisons with other kinds of plastic fasteners, the Invisi-Fast Hidden Deck Fastening System is the strongest on the market.
Whether you are using a pre-grooved deck board, grooving your deck boards on the job-site or using solid edge deck boards, Invisi-Fast has all the options for you. With the Original fastener, you can fasten all the solid edge boards that run perpendicular to the joist. If you are going to build your deck with the deck boards running on any angle to the joist you can choose the Angle fastener. Then we have the Biscuit fastener for all of your grooved board applications.