Real Redwood Decking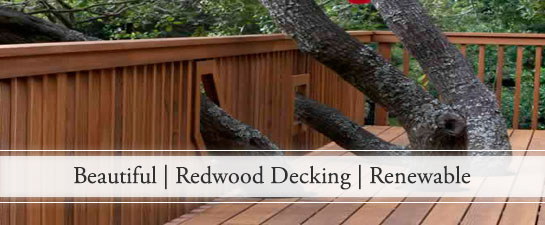 Since late 1980 redwood has been nearly impossible to obtain in the Twin City market, Today this has all changed, this highly prized, and in demand, deck surface, has returned. The Deck Store is proud to be the newest supplier of this amazingly beautiful, and long lasting, decking material. Forested in California's managed redwood forests, using only the best practices for redwood sustainable forestry. Redwood is a, recyclable, renewable, and biodegradable resource grown and harvested in accordance with the highest environmental standards in the world. Harvested only from coastal California's managed redwood forests that are certified as responsibly managed. The Deck Store carries "Deck Heart" grade redwood. When working with real wood selecting the correct grade makes all the difference. Learn about the grades of redwood we carry at The Deck Store to help choose the right grade for your deck building project. The most common redwood sapwood grades are Deck Heart, Clear, B Grade, Deck Common, Construction Common, and Merchantable.
Redwood lumber grades are divided into two primary groups, Architectural grades, and Garden Grades. Each of these groups is divided into sub grades. With such a variety, it is easy to be confused, at the Deck Store we carry one grade that is perfectly suited for your deck building project. Redwood is graded by two important factors: appearance and durability.
The Garden Grades include Deck Heart, Construction Heart, Deck Common, Construction Common, Merchantable Heart, and Merchantable, and are offered seasoned or unseasoned
The Architectural Grades include, Clear All Heart, Clear, Heart Clear, Heart B, and B Grade, and are normally sold kiln dried (pre-shrunk and stress free) for the finest exterior and interior architectural uses.
Deck Heart
The Deck Heart is an all heartwood grade containing knots of varying sizes and other slight imperfections; available seasoned or unseasoned. This highly useful grade can be ordered surfaced or rough. The Deck Heart has a similar appearance and uses as Construction Heart but is also graded for strength. The Scotia Series Deck Heart is available in 2×4 and 2×6 only. Uses of The Scotia Series Deck Heart Redwood include decks, fences, posts, retaining walls, garden structures, stairs or other outdoor applications on or near soil.
Learn More aout building with Redwood by visiting the Humboldt Redwood Website