Wood decks wear and tear over the years and need to be stained every so often. This gives your deck the just-built look and a new life. It may seem like a daunting task to refinish your deck. Or maybe you don't know where to start. That's ok because The Deck Store experts are here to help.
Step 1. Clean Your Deck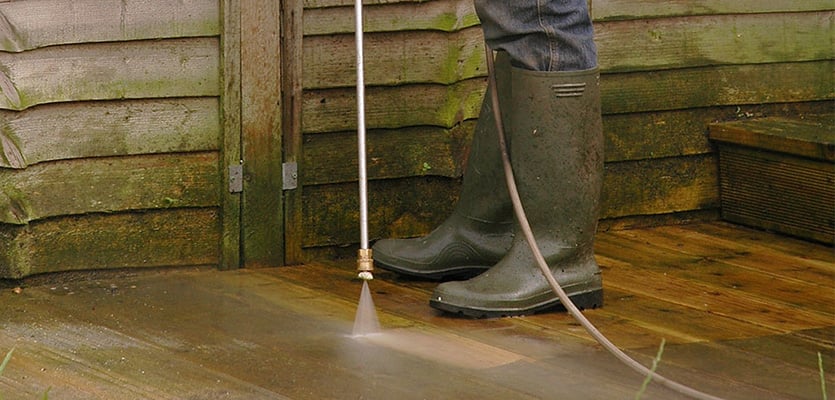 The first step is to clean your deck to prep it for staining. This is a huge factor in whether your finish lasts long and looks great or not. To clean the deck start with checking for any damage first. Make sure your deck has not rotted, all the nails are secure and the boards and railings are in place. Repair anything you come across big or small as this can make a huge difference in your decks lifespan. Next, clear off all the furniture, plants, and anything else that is on your deck. After that, apply painter's tape to where the deck meets your home so you can prevent any stain from getting on your house. When your prep is done grab your deck cleaner and scrub the boards with a stiff bristle brush. Once the deck has gotten a good scrub grab your garden hose and rinse the cleaner off the deck. Now you have a super clean deck that is ready for stain.
Step 2. Sand the Deck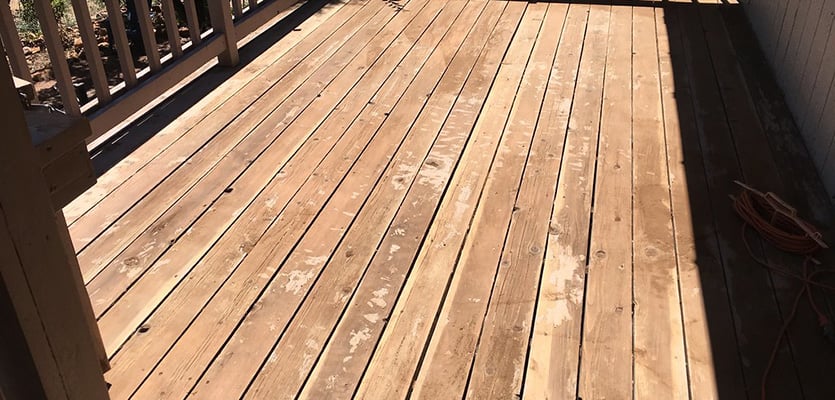 You will always want to sand your deck before refinishing it. This will allow the wood boards to better absorb the stain. We suggest to use an orbital sander to remove any old stain and then to use 60- to 80- grit sand paper on the main deck boards. Once you are done sanding, use a vacuum or leaf blower to clean off any settled dust so that is wont get stuck in the new finish.
Step 3. Stain the Deck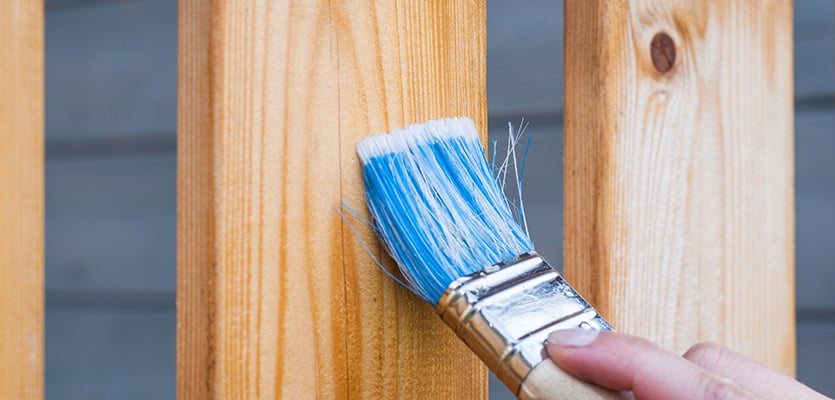 Once the deck is dry from cleaning, it is time to refinish it. Start by applying the deck stain on handrails using a paintbrush, starting at the highest point working your way down. Next start applying the stain on the deck boards according to the instructions, we recommend starting at the furthest end of the deck and working your way back to the stairs. This way you don't need to worry about stepping on any newly stained area. Remember to do it on a cloudy and cool day because stain can dry quickly in direct sunlight which does not give it time to be absorbed by the wood. Once you are done applying the deck finish, you should avoid stepping on the deck for a full 24 hours.
Summary
Now you have a newly sealed deck that looks brand new and clean. Keep the deck well maintained to keep it looking this way. Clean the deck in the spring and fall time with the remaining deck cleaner and perform regular inspections for any damage. If you do this, your stain will last you for a couple of years.