Nothing completes the look of your pool like a brand new deck does. Not only does a deck help with safety but also adds a modern look to the landscape. If you are ready to install decking by your pool or looking to upgrade an existing deck this article is for you. We go over everything you need to know and how to choose the best materials.
What Material Should I Use?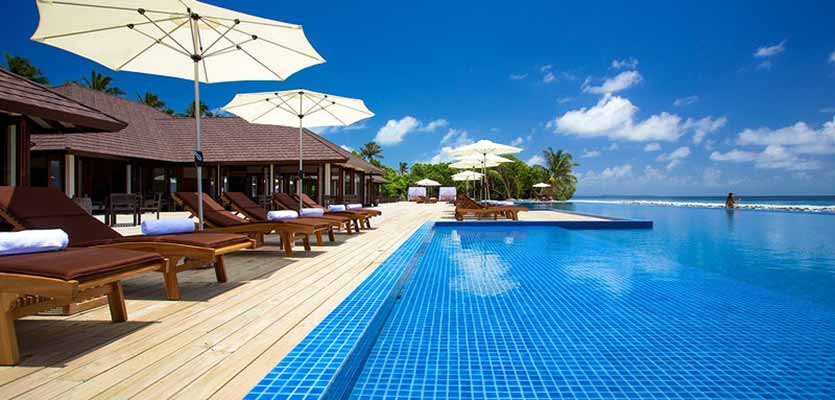 Material is very important for pool decks, you want to make sure that the material is water-resistant as moisture is what causes wood decks to rot. Also, we want to make sure whatever material you choose will not get too hot in the summertime as most guests and family members will be walking on your pool deck barefooted.
Wood
Wood is a great and popular choice for pool decks. Wood is popular because you can update your old concrete or brick patio and just construct the wood deck right over it. Also, it's great for stairways and railing systems. When choosing wood as your material of choice, keep in mind these things. First, you will need to choose between either redwood, teak, cedar, or exotic hardwood to repel moisture. This is because water will damage the deck over time. When installing a wooden pool deck you will need to construct a floor joist system to support the deck boards. When the deck is constructed the main thing to remember is annual maintenance and cleaning. Apply sealant every few years and you will have a gorgeous deck to enjoy for a very long time.
Composite
Composite wood makes the perfect pool deck. That's because it's already moisture resistant. You do not need to worry about your composite deck rotting from the pool water. Also, it is safer on bare feet. For one it is cooler to the touch, and composite wood does not splinter like real wood can. Lastly, composite decking looks great and mimics the look and feel of a real wood deck and it is very customizable.
Install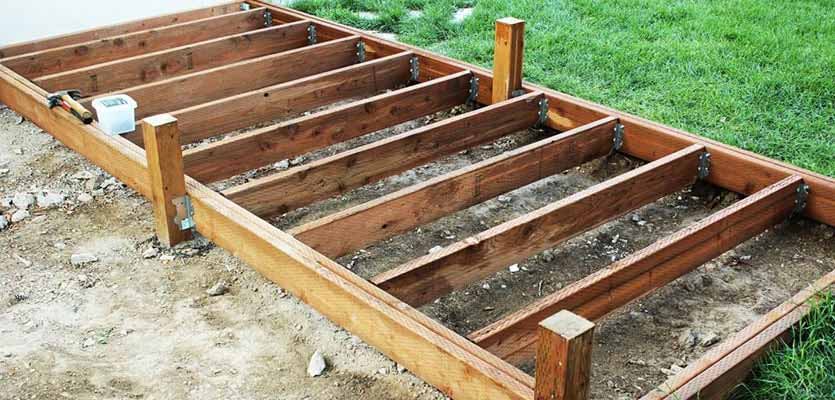 When installing a wood or a composite pool deck you will want to keep some things in mind. First, if you are going to be digging, call 811. It is a free national service that will help find out if there are any hazards where you are planning to dig. Next, you will want to make a solid foundation for your deck. Wood decks need floor joist foundation so you'll either want to research how to do that or hire a professional contractor to complete the foundation for you.
Design Ideas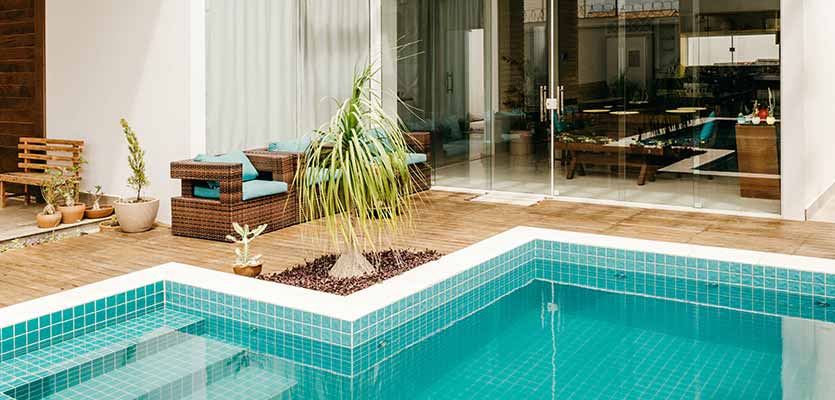 When building your deck keep in mind it can be multifunctional. This is a popular way to build a deck because it will make your life easier and knock out multiple projects at once.
Seating
When building your deck try to add some built-in seating. Like wooden benches around the perimeter. This is an easy way to add more seating without actually paying for furniture.
Storage
Create some storage bins around the deck area as well to store towels or pool toys. In fact, your wood benches could double as storage as well by making the inside of the bench a storage area.
Outdoor Kitchen
A very popular option is adding an outdoor kitchen to your pool. Create an area to store a fridge, a small bar, a grill, and maybe even a sink to maximize your outdoor entertainment space.
Summary
Pool decks look great and are very customizable so you can create the exact look you want for your backyard. The material you choose is up to you but we always recommend a wood deck or composite materials. This is because they last a long time and fit great in any climate.