Painting a deck is great to get that updated new look without spending a lot of money or hiring a professional. Paint acts a lot like deck stain where it also protects your deck from damage. Painting a deck that looks professional is not rocket science by any means but you will want to follow the steps below to get the best results.
Step 1. Cleaning Your Deck
Before painting your deck you'll want to make sure you have swept off and washed the surface. If you are worried about mold buildup use a deck cleaner. If you decide to use a power washer to clean off the surface. Please spray the deck at an angle to avoid damaging your decking materials. Once you are done with the initial cleaning let the deck dry overnight, Make sure the deck is completely dry before you continue to the next step.
Step 2. Sand The Deck
Before sanding you should remove any old paint that is left on your deck. Use a paint scraper to do this. Run the paint scrapper over any areas that have flaking or peeling paint. When finished you should be able to see the original deck wood with no paint on top of it. After the paint has been removed grab 80-100 grit sandpaper to smooth out the wood. Rub the sandpaper over any rough edges. Remember to be gentle during this step because your goal is to smooth out the deck, not to sand down the wood. Once the sanding is done grab a broom and sweep off any dust or debris that are left behind. This will make a soft and smooth surface to paint over.
Step 3. Prep The Deck For Paint
Before painting, you will want to prep your deck. First mask off the walls, railings, and windows near the deck with painter's tape. This will prevent any paint from getting on areas you would want to avoid. Also, if your deck is right against your house it would be smart to cover the walls with plastic sheets. This way you can avoid paint getting on your house as well.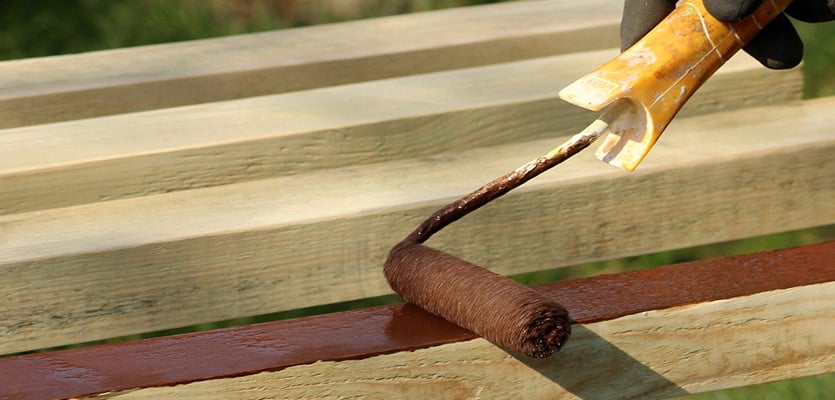 Step 4. Painting The Deck
Now it's time to start painting. Apply 1-2 coats of deck stain and let it dry overnight. This is going to make sure your deck is protected. Once the deck is stained grab the paint you choose for the deck and start working from top to bottom, one section at a time. For the main area of the deck paint the edges with a paintbrush first so you don't have to use a paint roller for the hard to get areas. Now apply the paint with a roller 1 coat at a time. Let the coat dry and decide on if it needs another coat or not. This is a personal preference. Once the final coat drys touch up any areas with a paintbrush and now your deck is fully painted.
Summary
Enjoy your newly painted deck and we hope this guide has helped you. As you can see this is a great DIY project without the need to hire a contractor. Follow these simple steps and you will have a deck that looks brand new.