If you're planning a deck project, Trex Select Decking is a great option to consider. This unique composite decking is made from recycled materials, delivering both elegance and affordability. It's also durable, with a high-performance shell to resist stains and molds better than traditional composites.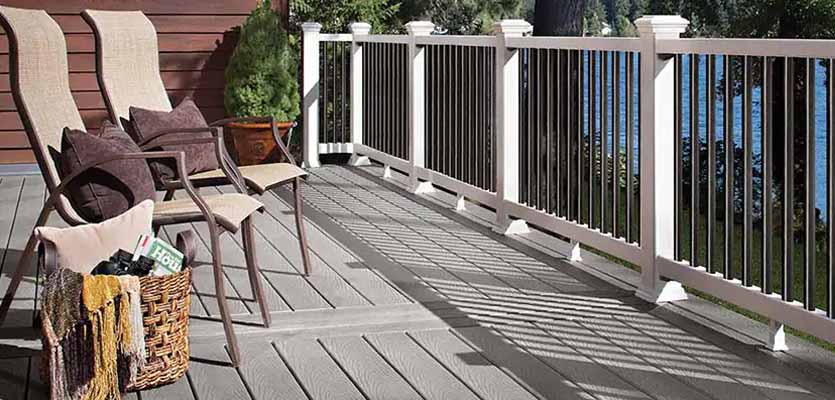 A High-Performance Composite Option
Trex Select Decking is a high-performance composite option that resists stains and mold better than traditional composites thanks to its high-performance shell. Plus it requires minimal maintenance - making it ideal for busy homeowners who don't have time to constantly upkeep their deck.
Beauty That Comes In Five Colors
Trex Select is available in five colors to best suit your home's style:
Madeira's features a rich auburn color and an easy-to-maintain, wood-like grain pattern.
Pebble Grey is the light heather grey you're looking for that has a wood-like grain pattern. With easy upkeep.
Select Saddle is a sunny medium brown option that is easy to keep up and has a wood-like grain pattern.
Winchester Grey is the dark, inky charcoal you're looking for that has an easy-to-maintain wood-like grain pattern.
Woodland Brown is an easy-to-maintain umber hue with a wood-like grain pattern.
These colors go great with any home and have a soft, splinter-free finish that feels comfortable underfoot.
A Deck That's Sustainable
Trex Select is also a sustainable and affordable option for your deck project. It's made from 95% recycled plastic and reclaimed wood, so you can feel good about using a product that's friendly to the environment. Plus, it has a 25-year limited warranty, so you can rest assured that your investment will last.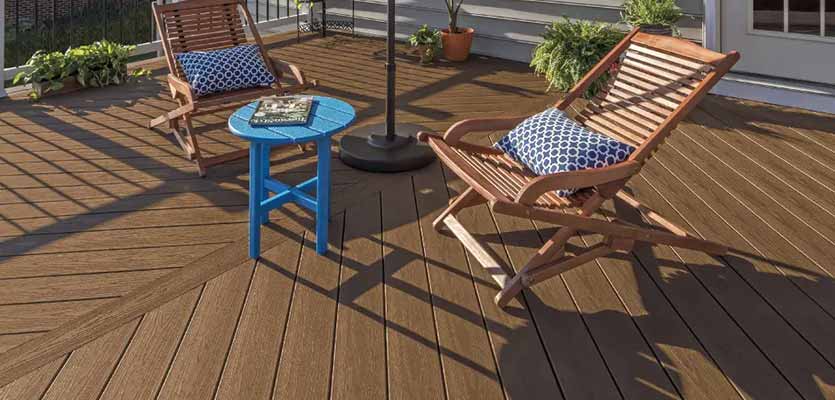 Square and Grooved Options
Trex Select is available in square and grooved edge profiles in 12', 16' & 20' lengths. So you can find the perfect option for your project.
The square edge boards install with deck screws like traditional wood would be installed.
The grooved edge boards install with the Trex Hidden Fastening System, which is installed beneath the deck surface and leaves a tidy finish free of screw holes.
Available At The Deck Store
Trex Select is available at The Deck Store, so come and check out this great option for your next decking project. Our experts would be happy to answer any questions you have and help you find the perfect solution for your home.