When you start the construction for your new deck, it's important to start with a strong foundation, just like building a house. If you are planning on doing this yourself, this article will be a great point to start. We will explain what are deck footings, foundation, and how to do it right. So your deck will be strong and sturdy for years to come.
Deck Footings
Deck footings can come in many different shapes, sizes, and names. But one thing they all have in common is they provide a solid foundation to support your deck if done correctly. The size and the design of your deck will determine how live and dead loads are transferred from your deck to the ground. Also, keep in mind the more footings you are planning to install, the less weight each footing will need to carry because the weight will be more distributed.
Before You Dig!
Before you start digging and constructing the deck's foundation, we always recommend you call a local organization to locate your utilities and power lines. This will save you from a costly accident and more important safe from injury. The national ' call before you dig ' hotline is 811.
How Deep Should Deck Footings Be
Deck footings should either be 12 inches below unsettled soil or below the local frost line (whichever is deeper). You need to always dig below the frost line to prevent the deck from moving when the soil freezes in the winter. A frost line is the deepest depth at which moisture and water are expected to freeze in cold weather. This obviously will deffer on your climate and it's always smart to contact a local building inspector to see what depth is required in your area.
Poured Concrete Footings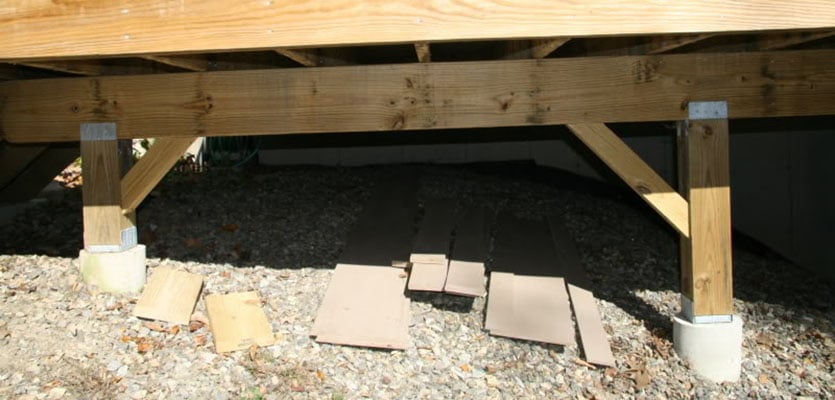 Concrete footings are dug and poured into the ground. This footing needs to be below the frost line so it can be a lot of work depending on where you live. After the hole is dug, concrete is poured into the ground to create a strong base where the deck posts will be attached to the top of this pillar using metal brackets. This type of footing is extremely strong and provides great support for your deck. Use this option if your deck is going to be very large, hold lots of weight, or be higher than your first floor.
Buried Post Footings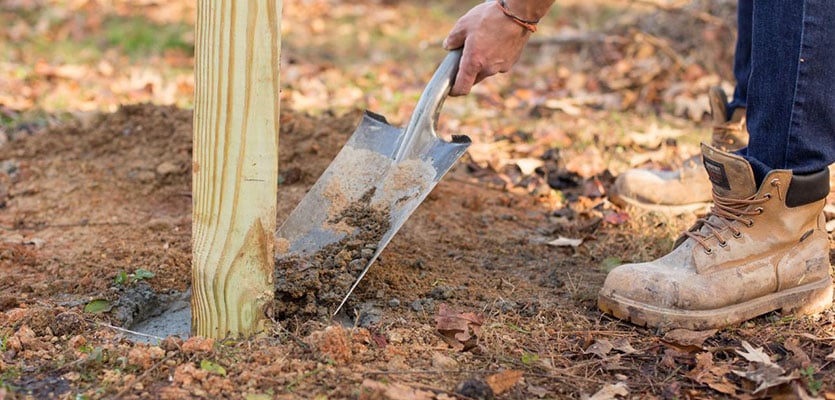 Buried post footings are a great strong and stable option for your deck. This footing is made up of poured concrete with a pressure-treated wood post secured to it. This option requires less concrete than poured footings. This option is still great for large decks but will not hold as much weight as poured concrete footings.
Deck Blocks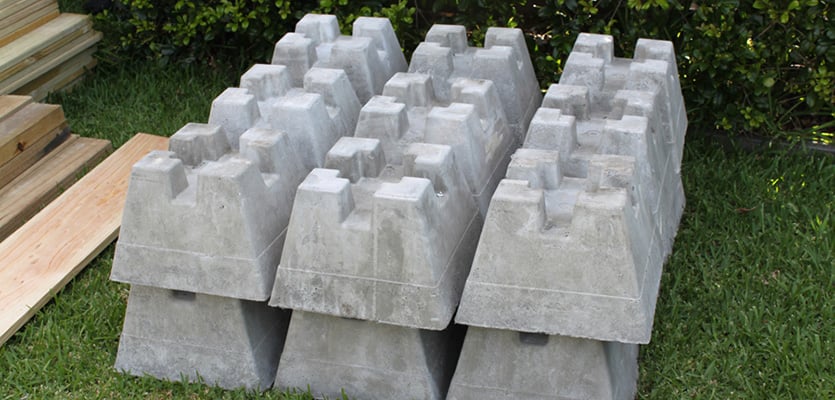 Deck blocks are easy to install, but because of this, they are not very strong or a permanent option. These blocks are pre-made cement blocks that are buried just below the ground. Treated lumber will fit into the top of these blocks to provide support. These are most common with ground-level decks that are not attached to the house.
Conclusion
Start with the ground level and create a sturdy base for your deck. This will create a long-lasting deck for many years to come. The Deck Store experts recommend a Diamond Pier Foundation System. This is the perfect choice for DIY homeowners because of the simple installation and minimal digging.