Lower Cost Shipping Options
Shipping building products purchased online can be very complicated and challenging. Most items that are small can be shipped by UPS, FedEx, or USPS, but there are exceptions. For example: paint and stain are smaller items but are limited to ground shipping, as federal laws won't allow those products in airplanes. As a result, we are unable to ship these products to Hawaii and Alaska. Decking is another difficult item to ship. Most services (like UPS) limit the weight, length, and girth of products they will ship, so large items such as decking, railing panels, etc. must ship by truck.
At TheDeckStoreOnline.com, our vast experience shipping decking products has given us the the expertise to deliver most products for a reasonable cost. Here are some insights to help you get the best value.
How Free Shipping works. Most items on our site will ship free with a minimum purchase of that item or select related items. The free shipping offer doesn't apply to upgraded shipping options 2 Day, or Standard Overnight. Mixing other non free ship items, will add to the shipping cost, but the free ship items

won't

affect the total shipping costs. You can verify this by adding the non-free ship items to the cart first, then add the free ship item and note there is no change to the shipping price. Note: Since the shipping cost is included in the price of the product, the shipping cost will be deducted from the refund due on any returned product(s). We reserve the right to ship any "free ship" items via FedEx, UPS, USPS, or other suitable carrier. You may also upgrade to 2 Day Air or Next Day Air shipping for an additional charge.
The Estimate Shipping section on the Shopping Cart page will show the lowest-cost shipping option. Placing certain items into your cart, like stain, ORM-D items, or decking will affect your shipping options, which you'll see when you enter your Zip Code in the "Estimate Shipping" section on the bottom left of the Shopping Cart page.This will limit the whole cart to ground shipping only, but you will have the option on a later screen to separate the items, if you choose, to have some items shipped air and the balance to ship ground only. The "Estimate Shipping" section will show you the lowest possible shipping option only. You will still have the option to select air freight on items that allow air freight when you Checkout.
Drop Shipping. Some items we sell are shipped to you directly from the manufacturer. Because we don't inventory those items, we may not be able to offer expedited services. In those cases you may not have Standard Overnight or 2 Day options available. There may be additional delivery time due to manufacturer's schedules as well.
Money Saving Tip. The Deck Store is located in Apple Valley, Minnesota. Orders placed for ground and being shipped within the 7 State Area are normally delivered in 1 - 2 business days after we process the order. Don't select Air Freight options and pay the extra $$, as you will likely get your items just as quickly, and for a much lower cost, by selecting the ground option. Note: This

does not

apply to drop ship products that come from other parts of the country and allow for the expedited air options.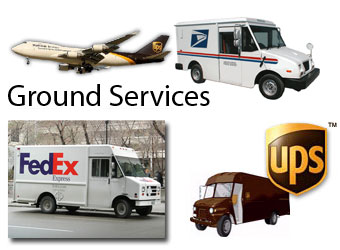 Standard Shipping Details
Ground - 1 to 5 Business Days (3-7 Days to Alaska, Hawaii, & Puerto Rico) * Please allow reasonable time to package your order.
2 Day Air - 2 Business Days (Alaska, Hawaii, & Puerto Rico add a day) - Ships the Same Day on orders received by 10am CST * Please allow reasonable time to package your order.
Standard Overnight, or Next Day Air - Ships the Same Day on orders received by 10am CST (Alaska, Hawaii, & Puerto Rico add a day) * Please allow reasonable time to package your order.
LTL Freight Shipping is required for decking and some railing products ranging in weight from 150 to 15,000 pounds (Alaska, Hawaii, & Puerto Rico not available). Packaging and scheduling freight pickups does take extra time. Once picked up we will forward you the shipping companies tracking number. The freight company, such as YRC or R&L will call you to arrange delivery. The Driver is only responsible to move the freight to the tailgate of the truck. You will be responsible for unloading the deck boards or railing, usually by hand. Refused loads or Liftgate services will be charged an extra delivery fee, for which you will be responsible. To avoid these fees, it is a good idea to have several people to help unload. You must inspect your items for any damage at the time of delivery. If damage is found, you will need to take pictures and inform the driver immediately. Take note of the trailer number and contact us. Due to recent changes in NMFTA rules, any concealed damage must be reported within 5 days of delivery, after that, damaged products may not be covered. * Please allow reasonable time to package your order.
Store Pickup. Some items are available for pickup in our Apple Valley store. Use this option to save on shipping. * Please allow reasonable time to package your order.
Free Shipping. These Items ship regular ground service. Alaska and Hawaii are exempt from Free Shipping promotions.
Canadian Customers are served by Ship to Border Services, or can have their order shipped to a U.S. address.
Hawaii, Alaska and Other US Territories Also have special shipping options displayed on select items.
Note: Custom and Special orders can take 10+ business days to process and are generally

NOT RETURNABLE

. Choose these items carefully, as we want you to have a good experience.
What is ORM-D? ORM-D is a marking for mail or shipping in the U.S. that identifies "other regulated materials for domestic transport only." Packages bearing this mark contain hazardous material in a limited quantity that presents a limited hazard during transportation, due to its form, quantity, and packaging. ORM-D items ship Ground Only.
TheDeckStoreOnline.com strives to ensure timely delivery of all products ordered online. However, due to variables outside of TheDeckStoreOnline.com control, DELIVERY TIMES ARE NOT GUARANTEED. Please allow the full time stated above for your product's arrival before contacting us regarding missing products.