Creating a custom deck with a DIY deck frame is an excellent method to add a one-of-a-kind piece of outdoor living space to your home. While constructing a deck frame isn't as simple as nailing several boards together, it is a doable DIY project - provided you have the appropriate knowledge and assistance. That's where The Deck Store comes in to help you with your joist plan and spacing strategy.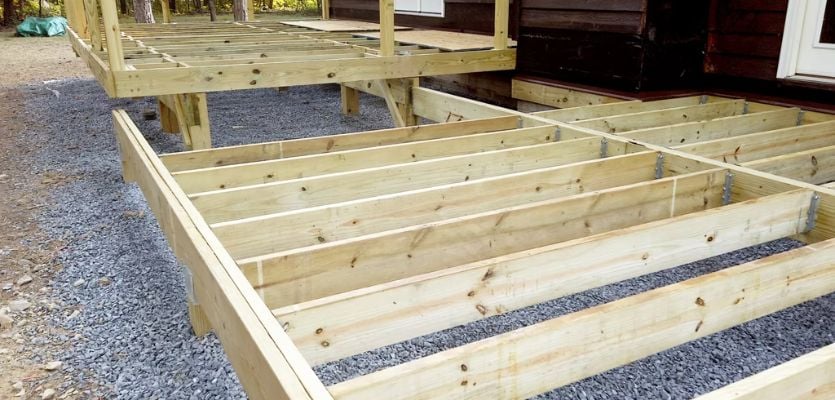 Why Do I Need To Plan My Deck With The Right Joist Spacing?
It's critical to correctly dimension your joist spans and joist spacing, which will ensure that your deck meets building codes and speeds up the process of obtaining construction permits. More importantly, though: joist spacing and span requirements are established according to industry standards in order to ensure that your deck is safe and structurally sound for you, your family, and your friends. Correctly spacing your joists will ensure you have a safe and sturdy deck for years to come.
How To Plan Deck Joist Spacing & Joist Spans
Terms to Know
Joist Span: the length of your joist from one end to the other
Joist Spacing: the distance between each joist, measured from the center of one joist to the center of the next joist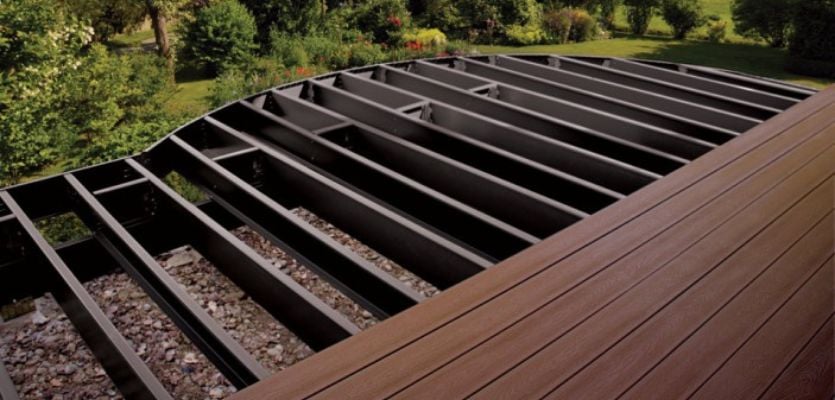 What Is A Deck Joist?
The structure of a deck's walking surface is made up of joists, which are structural components that run the length of the deck perpendicular to the home. Joist hangers connect joists to a ledger board and extend the whole length of the deck, parallel to the house.
How Far Apart Should You Space Deck Joists?
The short answer: deck joists are typically set at a distance of either 12 inches or 16 inches apart, on center.
A slightly more in-depth look: the maximum joist spacing you can use for your frame will depend on a few factors:The size of your deck joists
The framing material
The maximum joist span
How To Make Sure You Have The Right Joist Spacing
To make sure you're planning your deck frame with the right joist spacing, there are two sets of standards you should check:
Your deck material's standards
Local building codes
1. Joist Spacing With Composite Decking
Every deck board manufacturer puts its decking material through in-depth independent testing to find the right joist spacing. In almost every case, composite decking manufacturers have found that 16-inches on-center is the maximum joist spacing for their boards. You can find joist spacing requirements in the installation instructions for your deck boards.
One note: that 16-inch spacing is based on a traditional deck board pattern, with boards installed perpendicular to joists. If you're installing deck boards at a 45-degree angle to your joists, you'll need to tighten up your joist spacing to 12-inches on center.
2. Local Building Codes
Different joist spacing requirements might be defined by local building codes. As a result, we always advise consulting your city's building department to ensure that your design meets any local or state standards.
What Is The Maximum Joist Span?
Deck joists have varying maximum span lengths based on the dimensions, spacing, and framing material used for constructing your deck. Below is a useful chart that outlines the maximum permissible spans for the most common types of wood framing species: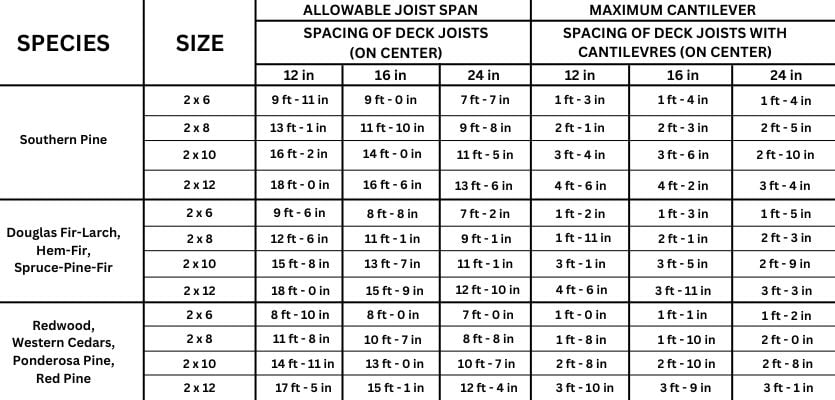 Joist Spacing For Composite Decking
Before you begin constructing a composite deck, it is crucial to thoroughly review the installation instructions provided by the manufacturer. Pay particular attention to the recommended joist spacing specified for the specific composite decking you are using. Various composite decking materials, such as Trex composite decking, typically impose limitations on the maximum joist spacing. For straight decking, the usual requirement is 16 inches on center spacing, whereas for 45-degree angle diagonal decking, it is 12 inches on center.
Additionally, many composite decking materials necessitate a spacing of 12 inches or even 9 inches on center for stair stringers to adequately support composite stair treads. If you are installing composite decking over an existing frame, it might be necessary to add new intermediate joists or stair stringers to meet the installation guidelines.
Since most composite products are more flexible compared to their wooden counterparts, they do not conceal flaws in the framing as effectively. As a result, an uneven surface may occasionally occur. To identify areas that may be slightly higher than others, it can be helpful to stretch a string across the joists for the composite deck boards. By doing so, you can detect these spots and address them by using a power hand planer. This approach will help you achieve a more uniform surface, bringing you closer to the deck of your dreams.
What are Joist Hangers?
Joist hangers are important because they help connect the ends of joists to beams or boards. It's super important that the joist hangers are really good quality and approved for use with special wood that has more copper in it. When it rains, the water makes a special mixture that can damage weak joist hangers and the things that hold them together. So, we need to make sure we use strong joist hangers and the right materials to keep everything safe and secure.
What are Other Joist Installation Considerations?
Joists are the wooden beams that support structures like decks and bridges. They are usually not completely straight and can have a small curve called a crown. This curve helps prevent sagging in the middle of the joists when they have heavy things on top of them. Just like bridges, which also have a curved shape for the same reason.
When you're working with joists and you see a curve, it's important to install them with the curved part facing up towards the sky.
The term "On Center" is used to talk about how far apart the joists are. Most decks have joists that are spaced 16 inches apart in the middle. This spacing is good because most decking materials are not strong enough to cover wider gaps. Sometimes, builders put the joists closer together, about 12 inches apart, to make the deck stronger or to allow for longer spans between the joists.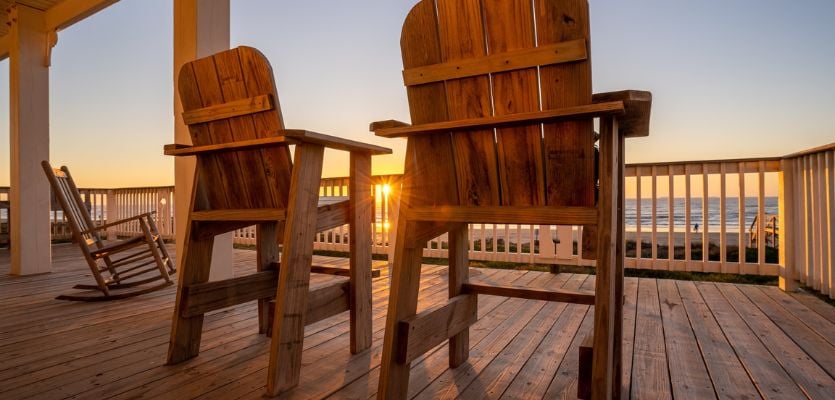 Need More Information On Deck Building?
Checkout out our deck design & build blog for all the information you need on building your dream deck. Whether it is choosing between composite decking or wood, how to care for your deck, or just a complete deck building guide then we have you covered.