A Trex® composite deck is ready whenever you want to use it. No sanding, staining, or painting here. A little soap and water or a quick power washing is all the maintenance Trex requires. Wood decks take constant care. Trex composite decking is more durable and longer lasting. When you look at all Trex has to offer, wood decking begins to feel like signing up for a second job.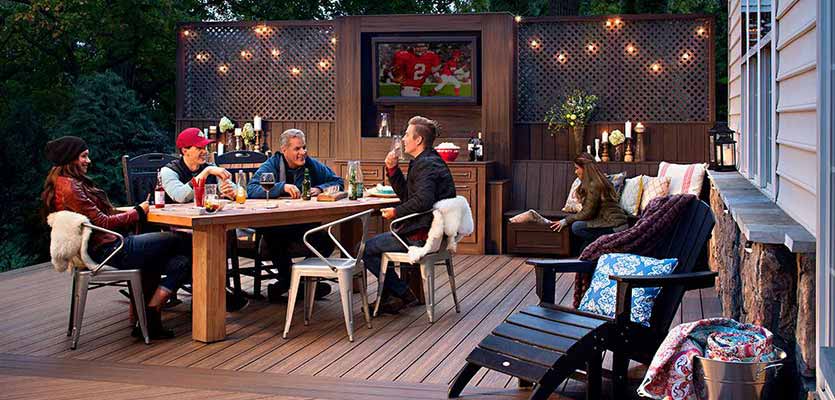 Since 1996, Trex has invented, defined and perfected the composite deck category with a lineup of low-maintenance, high-performance, eco-friendly products that fundamentally change the way we live outdoors. It's no wonder so many happy deck owners consider Trex the best decking material.
Why Replace Your Wood Deck with Trex Composite Deck Boards?
(Keeping your current substructure) If the boards on your existing deck are looking a bit worn - and the foundation and deck framing system are sound - you can simply replace the walking surfaces and deck railings with Trex composite decking and railing. It's an ideal way to save time and money while enjoying all of a composite deck's benefits over wood.
Over time, wood decks inevitably show signs of aging such as warping, cracking and nail pops. Designed with lasting beauty, incredible durability, and easy maintenance, there's no compromising with high-performance composite decking. That's why high-performance composite is the only type of decking Trex makes. They have been paired against other types of decking for a head-to-head comparison that proves Trex out decks, outlasts and outperforms the rest. Go ahead and see which decking material is best for you!
Everyone loves the natural look of wood but hates all the painting, staining and sealing. Wood decks of all types, including pressure-treated wood, ipe, cedar or redwood, require extensive upkeep. Trex was designed with the beauty of wood decking, but not all the maintenance. Trex high-performance, eco-friendly composite boards withstand years of sun, sleet, and snow, keeping their rich color. So when comparing composite decking vs. wood, there's no competition as to which decking material is best.
Whereas Trex is low-maintenance, wood decks:
Can rot, split, swell, twist and fade
Crack from insect infestation
Require annual painting, staining or sealing
Splinter easily
Contribute to deforestation
The hassles that come with wood Redwood, Pressure-Treated Lumber and Cedar
Needs seasonal painting, staining or sealing - All the beauty without the upkeep, Trex is more durable than wood decks.
Wood decks become a safety hazard when it rots, splits and splinters - Trex composite decking is safe and hazard free.
Wood decks fade and stain easily, showing every spill and scuff. - Compared to Trex, wood decks are a hassle.
Insects can cause extensive structural damage to wood decks - Trex composite decking is insect proof
Contributes to deforestation, cutting down trees that local wildlife depend on for food and shelter - Trex is made from 95% recycled materials
Wood decking doesn't age well - Trex guarantees that after 25 years our decking will still look and feel great.
All of these factors combine to keep Trex composite decking barefoot-friendly and attractive looking over the long haul.
TREX VS. EARLY-GENERATION COMPOSITE
Composite decking has come a long way over the past two decades. We should know: we invented the category. We've also evolved it by engineering the most significant breakthrough in composite technology—the Trex high-performance, weather-resistant shell. Without it, early-generation composites don't come close to the fade & stain resistance that Trex high-performance boards guarantee. And not just for the first year, but for 25 long, glorious years.
Whereas Trex is fade- and stain-resistant, early generation composite decks:
Are subject to discoloration and staining over time
Need periodic cleaning with deck wash
Are susceptible to mold and mildew, fading, staining and scratching
TREX VS. PVC
PVC decking is another low-maintenance alternative to wood. Just like composite, PVC can resist rot, termites and mold. However, PVC decking is far less environmentally friendly, produced mostly from virgin plastic. Compare that to the ultra-green Trex board: made with 95% recycled materials and eco-friendly manufacturing processes, Trex never loses its sophisticated color or performance.
Whereas Trex keeps its beauty, PVC decks:
Are prone to chalking
Are more likely to shrink and expand with temperature fluctuations than composites
Can fade and stain from rubber mats, sunscreen, and insect repellent
Are recommended for use with after-market cleaning products to maintain aesthetics over time
Replacing your wood deck with a composite deck surface is a great way to bring a sun-blasted, splintery deck back to life!
Order a sample to feel the authentic wood grain, see the bold color and test Trex's industry-leading performance for yourself.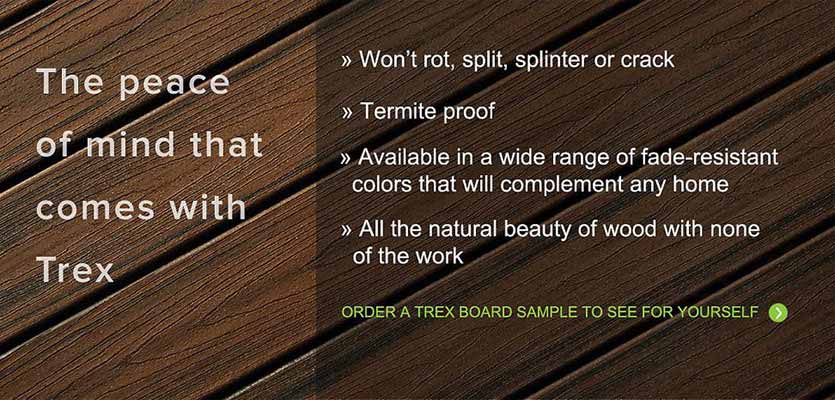 ALWAYS GREEN! TREX HAS NOT FELLED ONE TREE IN THE MAKING OF TREX HIGH-PERFORMANCE COMPOSITE DECKING. EVER!
Trex® eco-friendly composite decks are made from an innovative blend of 95% recycled wood and plastic film—that's almost the whole thing. On top of that, Trex uses some of the most earth-friendly manufacturing processes in the country, reclaiming factory waste and eliminating the use of harmful chemicals. Trex offers consumers a truly environmentally responsible choice. Being green is in their DNA. They've been this way for more than 20 years, well before green was a buzzword. Because in the end, all of us want to look out on our decks and know that we've done our part. Trex saves 400 Million pounds of plastic and wood from landfills each year! Every 500-square-foot Trex deck contains over 140,000 recycled plastic bags.
This earth-friendly formula, coupled with groundbreaking green processes, makes it hard to find a company more actively aware of its impact on the environment.
UNMATCHED WARRANTY COVERAGE
Trex decks will not rot, warp, crack or be devoured by termites. Period. In fact, all Trex decking and railing products offer a 25-Year Limited Residential Warranty against material defects, our high-performance lines add an additional layer of coverage with our 25-Year Limited Residential Fade and Stain Warranty. (Trex warranties)